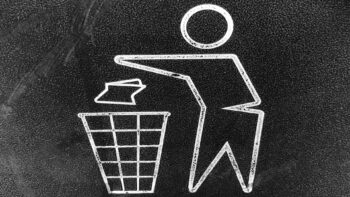 Talking Trash
While the 2010 ADA Standards for Accessible Design offers guidance on many design issues in a restroom, they leave out something important — the trash can. That leaves it up to the designer or facility manager to interpret the ADA Standards' intent and apply it to the trash can.
Having a clear, unobstructed path is the intent. So, placing the trash can out of the pathway seems obvious. But, what about in front of the sink/faucet area or in front of hand dryers/paper towel dispenser? These areas would be subject to obstruction and reach guidelines.
The best practice would be to determine a fixed location such as a wall mounted receptacle. Yet, here too, per ADA Advisory recommends the entire unit cannot extend out more than 4" and be 27" above the floor. The rest is up to you.
Issues can arise if you add a standard trash can (on the floor) to a space that is already as small. The resulting clear floor space may not comply with the ADA. Possible alternatives include a wall mount receptacle that extends 4" or less, a recessed trash can or a combination paper towel dispenser/trash receptacle.
Manufacturers
There are many manufacturers of trash cans that can accommodate for ADA restrooms. Here are a few to consider.
Bobrick. Bobrick is recognized as an industry leader in well-designed, value-oriented restroom accessories and toilet partitions. Some of the world's most renowned companies and institutions rely on Bobrick solutions to reinforce their brands, reduce long-term operating costs and position their organizations for a successful future. You will find a section dedicated to waste receptacles on their website.
American Specialties Inc. (ASI). The ASI Group designs, engineers, and manufactures fully integrated washroom accessories, partitions, lockers, and visual display products from one source. This includes waste receptacles.
Bradley Corporation. Bradley is one of the most complete and advanced manufacturers for commercial washrooms, and comprehensive solutions for emergency safety and industrial applications. Now in the fifth generation of the Mullett family, their continued commitment includes treating customers and employees like family. You will find 90 results when you search for "waste receptacle" on their website.