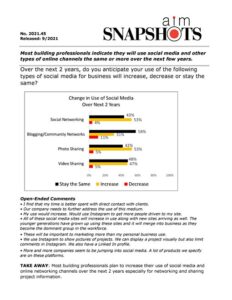 AIM Research on Social Media Use by Professions Shows it's Here to Stay
Accountability Information Management, Inc. (AIM), a leading B2B research company, recently published a new AIM Snapshot research on the future use of social media for business. The study found that most building professionals indicate they will use social media and other types of online channels the same or more over the next few years.
The AIM research revealed that while the majority of professionals would likely see their use of these channels for business increase, some are still uncertain what role these channels will play and how often they will use them.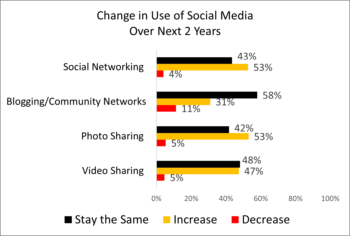 Social media for business is a critical part of the way people communicate and a key part of how work gets done. Today, more than ever, it is vital for businesses to stay engaged with their audiences, and social media is one of the best ways to do so. For example, the AIM research indicates more architects and interior designers would increase their use than engineers and facility managers.
"Whether you use social media for work or not, there is no doubt that it is here to stay," says Patty Fleider director of research at AIM. "This research, conducted during the height of COVID-19 (January 2021), shows that the use of online platforms and social media networking will continue over the next years and more than likely increase as new and different channels emerge."
For this study, AIM surveyed architects, interior designers, engineers and facility managers. The survey was conducted on-line in January 2021. Overall response was 153 completed surveys. The full Snapshots report can be downloaded free of charge at https://www.a-i-m.com/snapshots/over-the-next-2-years-do-you-anticipate-your-use-of-the-following-types-of-social-media-for-business-will-increase-decrease-or-stay-the-same/.
This Snapshot is part of an ongoing AIM research library, which can be found at www.a-i-m.com/snapshots along with a variety of other in-depth research reports on the construction marketplace.
About Accountability Information Management, Inc.
Accountability Information Management, Inc. (AIM), is a full-service B2B marketing research and information management company. AIM specializes in providing innovative, custom-designed research and analytical data services to support and enhance clients' strategic business decisions. AIM gives clients the ability to measure critical market parameters in order to stay connected to their customers, their competition, their suppliers and the ever-changing market environment. AIM has been conducting customized market research for over 25 years. Our highly experienced and committed team of professionals ensures accurate diagnosis of the issues, development of a unique research plan and expert project execution. AIM's extensive industry and marketing background puts them in a position of knowledge to design a research program that gives clients the market intelligence they need to make more informed and successful business decisions.