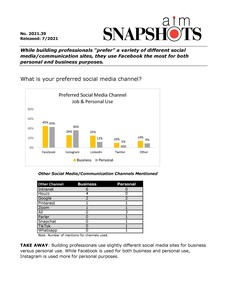 AIM Research Points to Top Social Media Platforms Used for Business vs. Personal
Accountability Information Management, Inc. (AIM), a leading B2B research company, recently published a new AIM Snapshot research on how business professionals use social media. The study found that building professionals use slightly different social media sites for business versus personal use. Even with the social media explosion during the pandemic, AIM researched indicates that Facebook still reigns as top leader in both uses.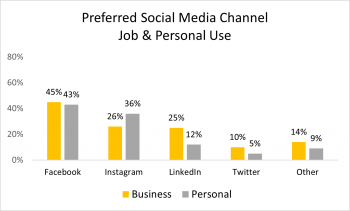 During the pandemic, many companies required employees to work from home or on staggered work schedules, which prompted the boost to social media use and elevated the importance of its use to maintain a company's success. While Facebook is used for both business and personal use, the AIM research revealed Instagram is used more for personal purposes.
The use of these social media channels became even more critical during the pandemic. Facebook might still be dominant with companies/firms in the building construction industry, but the use of top three preferred channels can vary. For example, the AIM research indicates that professionals also use LinkedIn and Twitter for business more often than for personal use.
Manufacturers who want to stay in touch with the building professional audience need to be aware of the different social media and online communication sites professionals are using.  Since technology and the "social" media channels can change rapidly, manufacturers need to evaluate these social media channels regularly.
"Finding the right balance between where to play in social media for personal and professional uses can be tricky," says Patty Fleider director of research at AIM, "but with this research, the sweet spot can be found. Even though this research was conducted in January 2021, while social media grew at such a rapid pace during COVID-19, it shows that after Facebook, there is a real separation in our business social media use."
For this study, AIM surveyed architects, interior designers, engineers and facility managers. The survey was conducted online in January 2021. Overall response was 153 completed surveys. The full Snapshots report can be downloaded free of charge at https://www.a-i-m.com/snapshots/what-is-your-preferred-social-media-channel/.
This Snapshot is part of an ongoing AIM research library, which can be found at www.a-i-m.com/snapshots along with a variety of other in-depth research reports on the construction marketplace.
About Accountability Information Management, Inc.
Accountability Information Management, Inc. (AIM), is a full-service B2B marketing research and information management company. AIM specializes in providing innovative, custom-designed research and analytical data services to support and enhance clients' strategic business decisions. AIM gives clients the ability to measure critical market parameters in order to stay connected to their customers, their competition, their suppliers and the ever-changing market environment. AIM has been conducting customized market research for over 25 years. Our highly experienced and committed team of professionals ensures accurate diagnosis of the issues, development of a unique research plan and expert project execution. AIM's extensive industry and marketing background puts them in a position of knowledge to design a research program that gives clients the market intelligence they need to make more informed and successful business decisions.