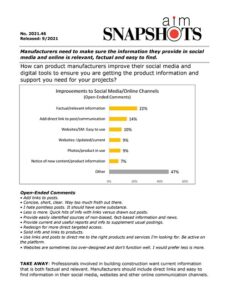 AIM Research Reveals Ways to Build a Better Social Media Presence for Business
Accountability Information Management, Inc. (AIM), a leading B2B research company, recently published a new AIM Snapshot research on improving product content on social media for business. The study found that manufacturers need to make sure the information they provide in social media and online is relevant, factual and easy to find.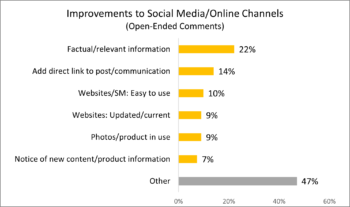 Social media for business is playing an ever-greater role in purchasing decisions and exerting a major influence on how we get information. For example, this AIM research indicates building professionals want factual and relevant information with a specific link to the area of the website or link to a report with more details.
Every day building professionals receive an abundance of communication from a variety of different channels including social media. The AIM Snapshot, results showed that a manufacturer's website is a source building professionals use most often to get information they use in their job that also needs improvement.
"By identifying and strategically addressing social media and online areas of improvement, manufacturers can tap into new business areas more successfully," says Patty Fleider director of research at AIM. "To ensure the message is received and digested, manufacturers should be brief and include only relevant, factual information."
For this study, AIM surveyed architects, interior designers, engineers and facility managers. The survey was conducted on-line in January 2021. Overall response was 153 completed surveys. The full Snapshots report can be downloaded free of charge at https://www.a-i-m.com/snapshots/how-can-product-manufacturers-improve-their-social-media-and-digital-tools-to-ensure-you-are-getting-the-product-information-and-support-you-need-for-your-projects/.
This Snapshot is part of an ongoing AIM research library, which can be found at www.a-i-m.com/snapshots along with a variety of other in-depth research reports on the construction marketplace.
About Accountability Information Management, Inc.
Accountability Information Management, Inc. (AIM), is a full-service B2B marketing research and information management company. AIM specializes in providing innovative, custom-designed research and analytical data services to support and enhance clients' strategic business decisions. AIM gives clients the ability to measure critical market parameters in order to stay connected to their customers, their competition, their suppliers and the ever-changing market environment. AIM has been conducting customized market research for over 25 years. Our highly experienced and committed team of professionals ensures accurate diagnosis of the issues, development of a unique research plan and expert project execution. AIM's extensive industry and marketing background puts them in a position of knowledge to design a research program that gives clients the market intelligence they need to make more informed and successful business decisions.