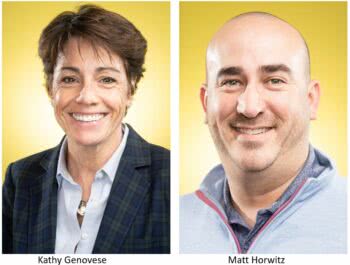 Howard's Merchandising Team Gets a Boost
Independent Retailer Names Kathy Genovese COO & Chief Merchandising Officer & Appoints Matt Horwitz Sr. Vice President, Merchandising
Howard's, Southern California's premier independent appliance retailer, announced the promotion of team members Kathy Genovese and Matt Horwitz to its Merchandising team. Kathy Genovese has been made Chief Operating Officer & Chief Merchandising Officer reporting directly to John Riddle, CEO & President, who made the announcements. Longtime merchandising team leader Matt Horwitz is advancing to Sr. Vice President, Merchandising and will report to Genovese.
"Howard's is currently experiencing record growth and taking on a variety of new challenges, from opening more Experience Centers to acquiring other regional appliance retailers to increase the company's reach," said Riddle.
Genovese will oversee merchandising, store construction, and training initiatives for the company. She is a veteran in the retail industry with extensive experience in consumer electronics and home appliances. Her career spans several high-profile positions with Philips Electronics, Hisense USA Corporation, and LG Electronics, before finding a home at Howard's in 2019. Kathy has directed groundbreaking initiatives throughout her career. At LG, she became the first female senior director of new business development, and in 2014 she launched Costco into the home appliance industry, making them a viable player in the space.
"Kathy's leadership with the expansions and new product launches in the US market to date has been indispensable," said Riddle. "Her project management and guidance have been pivotal to our success over the last two years, and we look forward to seeing what new and exciting initiatives she will bring to the table in the future."
Horwitz will continue to support the buying and selling process from purchasing to product delivery in his new role, creating a roadmap for the introduction and promotion of new Howard's products. Horwitz has been with Howard's for nine years, beginning as a buyer for the company. Before his work with Howard's, Horwitz spent 10 years in the retail merchandising industry, working for Monster Inc. and Paul's TV. In his new role, Horwitz will report to Kathy Genovese.
"Matt has proven himself to be an invaluable member of the Howard's team, and the ideal person to take on this new position," said Riddle. "He will provide valuable insights into market trends and competitor behavior, as well as representing the company in the community—a critical role for Howard's because of our commitment to being a part of the neighborhoods in which each of our stores are located."
Howard's continues to grow its portfolio throughout Southern California with a new Experience Center debuting in West Hollywood this month, the renovation and relaunch of the company's Huntington Beach and Irvine locations as Experience Centers in Winter 2021, and the recent acquisition of a new Victorville high desert store.
Founded in 1946 when Howard Roach began repairing radios in the back of a sporting goods store in San Gabriel, California, Howard's has grown to become Southern California's largest and most trusted independent appliance retailer. With knowledgeable product experts, the highest levels of service, the best brands with an expansive array of products, and 12 conveniently located stores in Los Angeles, Orange, and Riverside Counties, we accommodate each customer in each location for a unique shopping experience every time. Howard's prides itself on three pillars of service: an unparalleled 60-day price match guarantee, expert customer service, and free next day delivery. howards.com.
Editor's Note:
Carrie Smith Lays Out Retail Strategy – the Howard's Way is a great interview on this exciting company that we published previously. Also, for retail strategy, see our OPINION piece, Street Fighter: Jim Inglis writes a no-nonsense treatise on strategy in retailing and how passionate belief makes things happen book review. And congratulations to Kathy and Matt!