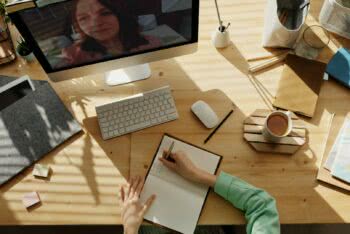 The Stay-at-Home Economy – 5 Strategies to Help Businesses Navigate the COVID-19 Landscape
By Michael J. Kosinski, president and founder of KosinskiMedia
I became aware of the so-called "stay-at-home economy" several years ago. First consisting of groups of individuals, typically millennials between the ages of 22 and 38, who, for various reasons, were interested in spending more time at home.
Some of the reasons given for these younger folks wanting to stay nested included: the plethora of home-based entertainment and food-delivery options, a chance for some much-needed downtime, a penchant for avoiding risk and the opportunity for self-pampering.
Fast-forward to the state-sponsored, stay-at-home orders given over the past month. Now it seems the Coronavirus pandemic has significantly amplified the stay-at-home trend. It also could be argued that today's group of homebodies has virtually expanded to include, well, nearly everyone.
Even though states are heralding plans to relax stay-at-home constraints and the immediate, acute threat of COVID-19 will pass, things likely will not return completely to normal. It is reasonable to expect that consumers – concerned about their health, wealth and jobs – will be slow to return to pre-crisis spending patterns.
What does it all mean for product marketers trying to manage pandemic fallout while still retaining and acquiring customers with a different mindset about spending? What we have witnessed from going through past economic downturns is that the best time to double-down is when others are hesitant to it. This may be a good time to double-down.
Adjusting to the New Normal
The global economy is experiencing unparalleled upheaval in the wake of COVID-19. In addition to a public health crisis, the pandemic has created an economic crisis of historic magnitude in the United States.
According to the U.S. Congressional Budget Office (CBO), in the second quarter of 2020 the economy will experience a sharp contraction. Gross domestic product (real GDP) is expected to decline by about 12 percent and the unemployment rate is expected to average close to 14 percent.
With many states still locked down and people being told to shelter-in-place while distancing themselves from others, there is a significant danger in a substantial collapse in product demand. Fortunately, governments, at both the state and federal levels, are taking significant measures to suppress negative economic consequences.
Below are five strategies to help product marketers survive the pandemic crisis while maintaining relationships with consumers. The tactics offer hints and tips on what to do now, during an ongoing crisis and afterward.
Action Steps for Product Marketers
Intensify your customer insight: Your customer's worlds have been upended. Still, you need to maintain and build relationships with them. Now is the time to let customers know that your company understands their situation. Take some time to empathize the difficulty that everyone is having with the COVID-19 pandemic. Tell them about the steps you are taking to assist customers, employees and other stakeholders in getting past these days of crisis. Keep customers in the loop about your procedures for cleanliness, sanitization and the safety measures you are taking to prevent virus spread. Using your company's website, advertising, social media sites, blog, newsletter and mailing lists are ideal ways to spread the word.
Make the digital world more human: COVID-19 has pressed many consumers into a digital-only existence. However, technology cannot replace human companionship. So how do you support customers in a human, meaningful and considerate way? Think of how you currently interact with customers: physical (face-to-face), remote (via mail or phone) and digital (via website, online sales and service). While in the past, customer touches may have been supplanted by speed and efficiency, now it is important to implement the human touch across all channels when possible. For example, have staff members answer order and customer service calls. Also have friendly, knowledgeable and promotion-minded staff members provide order pick-up duties.
Now is a good time to try something different: The Coronavirus pandemic has upended the daily routine for nearly everyone. Customers adjusting to a new way of life makes this a less risky time to try different things with your marketing. For example: Stay Zoom ready as webinars are all the rage right now. Online streaming is also more popular than ever. Streamers, or broadcasters, are sharing first-hand product experiences. They are becoming influencers for online word-of-mouth testimony. Companies are now pivoting to use online interactive programming for what, in the recent past, had been hands-on product or service experiences. And while informing customers about the new things you are trying, be sure to assure them that past existing value is still intact.
Highlight anything and everything related to the home: With shelter-in-place pandemic orders forcing many Americans to hunker down at home, they are discovering new areas in need of home improvement. Big-box stores and hardware stores, deemed essential businesses and open during the pandemic, are reporting more interest in things like garden supplies, lawn mowers, chainsaws, paint – anything related to projects around the house. While longer-term home improvement initiatives – kitchen and bath remodeling, roofing and deck projects – are hindered by uncertainty about the future. Still, as Coronavirus fears begin to fade and all states reopen, home improvement businesses will be thriving by promoting and planting seeds today.
Apply AR and VR to the online shopping experience: Isolation and quarantine are driving customers to e-commerce. Augmented reality (AR) and virtual reality (VR) solutions can help reinvent the buying journey by allowing customers to virtually experience wearing products, hold them in their hand and highly immerse them into different environments. For example, AR cosmetics allows customers to try on individual items or ready-made looks from their phone. VR vacations are offering experiences almost as good as being there. The technology allows for viewing the finished product before construction starts or showing real estate properties through virtual tours. A VR and AR selling experience can help differentiate your business from the competition.
There is a natural inclination for marketers to cut back on promoting during times of economic contraction. This is a mistake. It has proven over time that companies continuing to promote over times of economic slowdown – maintaining their ad budget and/or changing their messaging to better align with customer needs – do the best when the economy returns to normal.
About Michael J. Kosinski
Mike Kosinski is president and founder of KosinskiMedia, a copywriting and content creation service focusing on business, technology and related emerging trends.