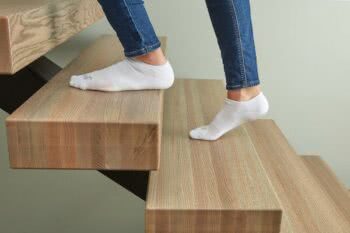 Introducing New Wire Brushed Stair Treads from Viewrail
Viewrail introduces new wire brushed stair treads to their collection of treads for FLIGHT, STRATUS, and TERRACE floating stair systems. Wire brushed treads are also available as stand-alone items.
The process of wire brushing wood with the grain brings out the unique aspects of each grain of the tread, producing a weathered or aged look. The process of wire brushing removes the soft grain and leaves the heartwood, exposing and opening more of the natural grain and texture. In many cases, wire brushing imbues a burnished look to the wood.
Wire brushed treads are especially appropriate for homes with young children or pets and for commercial buildings with higher traffic. Wire brushing produces a tactile feel and a more vibrant appearance. The exposed heartwood is more resistant to normal wear, so you can expect wire brushed treads to retain that brand new look for a longer time.
Wire brushing creates a more forgivable surface, and the occasional scrape or scratch will blend right in. There's just a tad more texture as well, so the treads are less slippery. The wire brushed look is especially suitable for rustic and modern styles. It's also very popular in waterfront locations, particularly when combined with lighter color stains. The surface and stains together create a beach-like appearance.
Viewrail offers wire brushed treads in 15 species, 39 finishes, and 6 widths from 36" to 72" with left, right, or double returns. It's available for all Viewrail thick treads, all replacement treads, and all standard treads. There is no additional cost for wire brushing.
About Viewrail
Viewrail, based in Goshen, IN, is a manufacturer of premium rod, glass, and cable railing in addition to the FLIGHT floating stair system. A state-of-the-art wood shop, a full steel and aluminum shop plus a glass shop permit Viewrail to fabricate all of the components in-house
Editor's Note:
Viewrail contintues to introduce exciting new products. Here are two of their latest in addition to the wire brushed variation in this story:
Viewrail Introduces Onyx Stainless Steel Rod Railing
Viewrail FLIGHT Floating Stairs Create Airy Open Space